18 Aug

What does a Business Coach do?
In the world of competitive sports, coaches tell you what you need to do better.
As a small business coach, I work with you on "you and your business".  I help you develop your purpose and often ask you questions to help you discover your own "whys".
Why did you start your business?
Why do you feel burnt out?
Why do you do what you do?
You're a business owner, but you're also a human. Which means you may be afraid or wary about believing and/or accepting your own ideas and therefore weak to thinking traps.
As your coach, I will help pinpoint these issues and work with you on how to avoid them so that you can stop self-sabotaging your company and really start believing in yourself.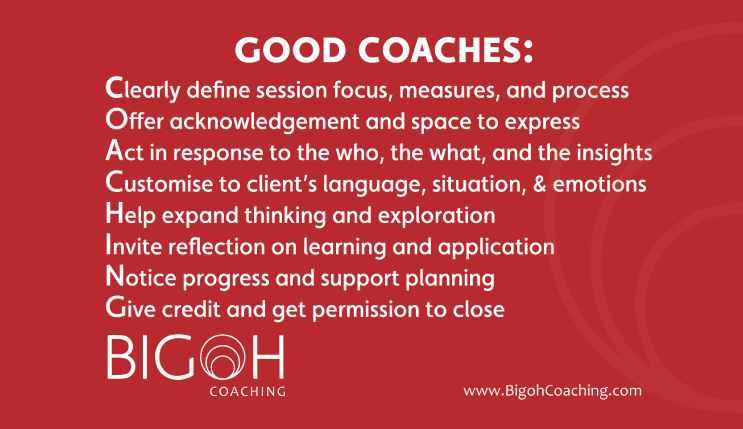 You might need a business coach if…
·       You consistently ruin your own plans
·       You're afraid of success or of increased responsibility
·       Doing the "hard work" of finances
·       Meeting with investors or potential clients
·       You find it hard to get up and take care of your business
·       You find yourself shying away from aspects of your business
like: replying to customer complaints and queries
These issues aren't always caused by the business – they're often caused by a chasm in your thinking process.  
As your small business coach, I will help you with problems that directly impact your business, and connect you with tools that can get you to the next level. 
For example – if you have a chronic time management problem, we can look at a whole array of tools, systems and processes that will help you better manage your time, priorities, targets and objectives that will actually deliver results. 
Regular meetings with me will serve as a support framework that can keep you accountable on your business journey.
A small business owner myself, who has successfully scaled their own business; I will be able to identify more strongly with your fears, pain points, and issues–because I and many of my clients have been there.
? I get it.
When was the last time you were given the opportunity to think and feel deeply then move into experiencing what you want professionally and personally?
? Now, let's think again, how will a coach help you?
I think you'll be amazed at the potential outcomes working with a good coach can deliver.
Happy to meet to discuss how the above applies to you and your business.
If you enjoyed this article, please comment below and remember to share with your friends.
Want to know more?  Read the follow-up to this blog – what do you need to know about a coach before working with one?