19 Oct

How have I become one of South London's most sought-after Business Coach?
Over 30 years, my diverse career spanned public, private, third-sector, professional services and increasing number of local South London based SMEs.
Having worked my way up from an administrative assistant (LB Lambeth) in the early 1990s to the Head of Housing (City of London Corporation) as recently as 2017, it turns out I already knew more than I had realised when it came to leadership and business. Applying this knowledge was met with varying success.
Leaving my Previous World
I left the world of housing management because I had become unduly affected by the insidious nature of senior management, feeling left-out, let-down, inadequate, never quite good enough and the endless rounds of redundancy and cost-cutting.
I left in anger.
My vision was to make a massive dent in the small business/SME world by working with about every small business I could in South London.
Having worked for many years in a variety of leadership positions, I became fascinated with the methodology behind professional achievement – how certain people would thrive where others did not.
Combining this passion and practical experience with my academic background, I pursued and founded my own coaching and mentoring practice, BigohCoaching.
BigohCoaching – Business Coaching and Mentoring Practice
BigohCoaching focuses on helping people attain their professional goals through a carefully structured, two-way dialogue, which encourages self-awareness and self-empowerment—enabling people to uncover their own solutions to whatever obstacles are holding them back.
I set out to look for businesses to support and build a diverse client base across the engineering, retail, construction, professional, creative, and marketing sectors. Pleased to report, I found a sweet spot of businesses in the Southeast and South London in particular.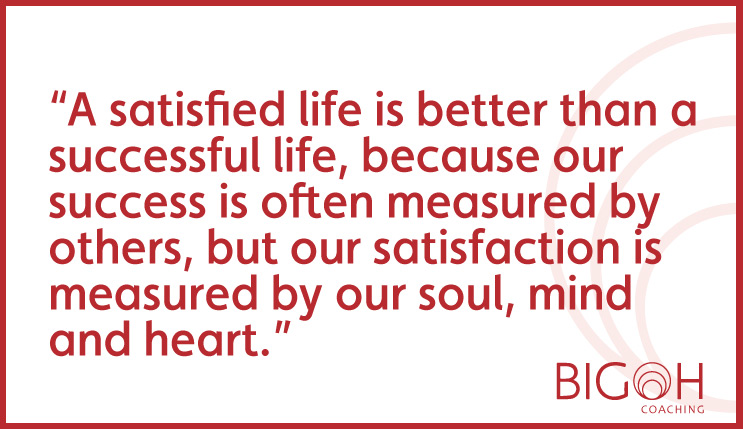 Most of my clients were getting impressive results, but of course, that depends on how you view success. For me "a satisfied life is better than a successful life, because our success is often measured by others, but our satisfaction is measured by our soul, mind and heart."
Many of the clients I work with are already successful and happy with their business results, but they do want to change how they run their business.
To this end our conversations are about all sorts of business issues, identifying and implementing different strategies, just like I had been trained.
But that was not where the significant breakthroughs came from.
Significant Breakthroughs
I have noticed that my clients often show up differently in their businesses and would take exciting, positive, and often surprising decisions, actions, ideas and strategies discussed in coaching sessions, often ascribing their decisions to me.
I wanted to know what I was doing that was driving this behaviour so that I could bottle it and get it out to more businesses.
For the first time, I saw the full extent of my experience laid out in front of me and the potential of what I had to offer. I realised that getting business leaders to show up differently might be best served by coaching them.
It lay in a simple transformation of how the owners showed up in their businesses and organised themselves around the results they wanted. This transformation had the power to make them fully self-resilient, by passing the sense of dependency on their coach for motivation, inspiration, and accountability…obviously these traits do help too.
Finding the Missing Link
The missing link was figuring out what I needed to do to create the level of personal transformation that I had experienced. Or at least to get people to experience their full potentiality, so they could find their way back to it when they needed it.
When working with business owners, I have set out to:
Get business leaders aligned with what they want, the need for a coach to kick their butt becoming outdated.
Adopt a simple business planning framework that would work across all business types to create a robust, workable blueprint for the growth and development of companies.
Give business leaders a framework for problem-solving, planning, and decision-making so they can 'coach' themselves.
Support business owners in gaining more confidence and resilience, so that they will be able to deal with whatever shows up in their business without panic or procrastination.
It has not all been smooth running. At first, it was tough focusing on the transformative work with decision-makers. Impostor syndrome played a role, holding me back at times.
Overtime, it felt more comfortable and easier to coach at the level of providing solutions. There has always been something deeply satisfying about solving today's problems.
I realised that it does not serve my clients or their businesses to work at this level. It sets up a dependency. I do not want my clients to be dependent on me. I want them to be independent. Transformative. Motivators. Leaders.
To be fair, this approach is not for everyone. It only works for participants who actively engage in the content and focus on playing their part, for themselves.
A good coach is only a good coach if the client wants to be coached. I have had to learn and continue to learn how to identify the traits of participants that would get the results they wanted from my coaching sessions.
I think you will be amazed at the potential outcomes collaborating with a good coach can deliver. I would be happy to meet to discuss how the above applies to you and your business.
If you enjoyed this article, please comment below, and remember to share with your friends.
Want to know more?
Check out my other blogs – specifically, what do you need to know about a coach before working with one?